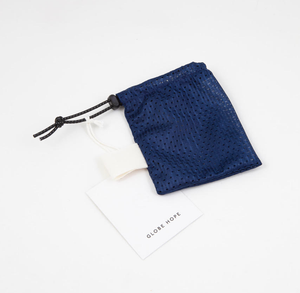 Store it all in ACT Head Impact Tracker pouch!
We know how it is with training bags and locker rooms, small important things get lost in them so easily. Hence we asked our friends at Globe Hope if they could make us a small pouch from those recycled and industry excess materials they have coming in. It is a small thing really, but big enough to fit the head sensor, headband(s), and an exchange battery or two (because they always run out when they shouldn't). But we put a big empty label to it, so that you can write your name, phone number, email address or other such info there to help its way back to you in case you two are separated.

Product details:
Name: ACT Head Impact Tracker pouch
Materials: 100% recycled
Color: Dark blue
Size: one size (14cm x 9cm)
Other features: rubber band with a clip -closure; tied ends of the rubber band form a hanging loop
Wash it with 30 °C, no ironing, do not use harsh chemicals or detergents
Eco design and manufacturing by www.globehope.com
Estimated delivery time at the moment: 4-6 weeks
Please note, handmade with recycled and industry excess materials mean that the pouches are unique in look, feel and material composition, depending on the materials available when it was made. We hope you'll like the one you get!     

The pouch is handmade by Globe Hope in Estonia and made of 100% recycled and industry excess materials. 
Please note
- See our Terms of Sale, Return and Exchange policy and Form in this website (www.act-tracker.com) for more information before you place your order.
- Due to hygienic nature of the product and one-time-only-registration of the head sensor you may only return and get refund on unworn and unused product(s) in their original unopened, untouched and sealed packaging. If you have opened the seal sticker on the head sensor packaging, or otherwise tampered on it, you may not return or get refunded on it.
- A fixed handling and shipping fee will be added to each delivery. The fee depends on the destination country and is as follows:
1. Delivery to address in Finland: 12,00€ / delivery (incl VAT 24%)
2.  Delivery to address in other member states of European Union: 24,99€ / delivery (incl VAT 24%)
- You will be fully responsible for paying any and all applicable Import charges and taxes directly to the relevant authority (and for reclaiming them in the event of a cancellation, an exchange or a return of Products(s), to the extent possible under the laws of your country) as determined by the authorities of the delivery destination country, and we shall have no responsibility or liability in connection with the foregoing.
- We currently only deliver from the web store to EU member states. Order inquiries from other countries, please email us contact(at)norspo.com